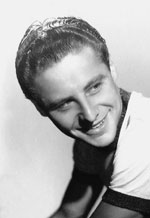 Jean de Gribaldy (July 18, 1922 - January 2, 1987) was a French road cyclist and directeur sportif.
Born in Besançon, former professional racing cyclist from 1945 to 1954 (three Tour de France in 1947, 1948 and 1952), he was French vice-champion on the road in September 1947, an excellent cyclocross rider and one of the best climbers. Jean de Gribaldy began a successful career as a directeur sportif in the mid-1960s.
Called le Vicomte ("the Viscount"), he discovered in particular Seán Kelly, Joaquim Agostinho, Michel Laurent, Bernard Thévenet and Éric Caritoux. He gave a second chance to many riders dropped by other teams. Most saw their career take a new dimension under Jean de Gribaldy.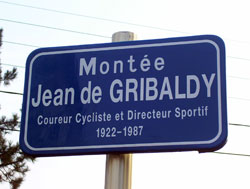 A street in Besançon, city in which he was a shopkeeper (Place du Marché), has been named "Montée Jean de Gribaldy" since 1994. Each year a bike race, "la Montée Jean de Gribaldy" is organized in Besançon, from the business center "the City" to the "Chaudanne fort". He created l'"Amicale Cycliste Bisontine", the main cycling club in Besançon, with his friend André Seltier in 1964.
Jet pilot, stars friend, businessman, Jean de Gribaldy was a man out of the common. He was a strong influence on international cycling, sportive and commercial Besançon activity.

The book